Handheld Classic Retro Video Gaming Player
It is an interesting hand-held game controller with more than 400 retro games on it. It is a favorite on my list. The box has the game box, manual, AV cable for connecting to monitor or TV if needed, a removable battery, and a micro USB cable for charging. The game box has a plastic box and it's super light in weight. Anyways the best part is it has a 3inch color display below that the controls and at back the battery slot. Now the cool thing is it has 400 games loaded in it.
JBL Infinity Bluetooth Speaker
If you are looking for the best product under 1000 rupees then there's nothing better than a Brand-New Portable Bluetooth Speaker by Infinity (Harman) from JBL. The build quality of these wireless speakers is solid with the rugged finish on top and an overall plastic design it weighs less and feels compact in size. The main highlights of these JBL infinity wireless speakers are their compactness and the price at which it is sold makes it a great 1000 rs item. It can be easily put in a pocket.
PUBG Gaming Joystick and Trigger for Mobile with Emergency Power Support and Cooling Fan
This is one of the best products for mobile phone gaming fans. For instance, if you love gaming especially PUBG for a long duration. This will definitely come in handy for you.
It allows you to mount your phone in a gamepad controller slot or format also it has an in-built cooling fan. So, if you're phone starts to heat up. You can simply turn the phone ON and get your device cooled up.
It also has the trigger on the top which will allow you for 4 fingers gameplay with games like PUBG. Another cool aspect of this gaming, the pad is it has an in-built 2500maH battery that powers up the fan and you also get to see a USB port on the back so for the emergency case if you're battery is running out.
You can quickly connect the cable with your smartphone and have your phone charged with your controller for an emergency power backup. For this price, you can't get better than this. Definitely go and check out this product.
Buy Donut USB cup warmer
If you want your coffee hot every time this cup warmer will do justice to your trust. It works on the USB port. This is one of the Best Gifts Under 1000 rupees you can find in the market.
While sitting at the computer you may end up having fatigue. People working long hours on Computer help them to brew a hot coffee in less time.
We have listed this one on our best gadgets under 1000 rupees for better productivity of your own.


Syska Smart light 7W bulb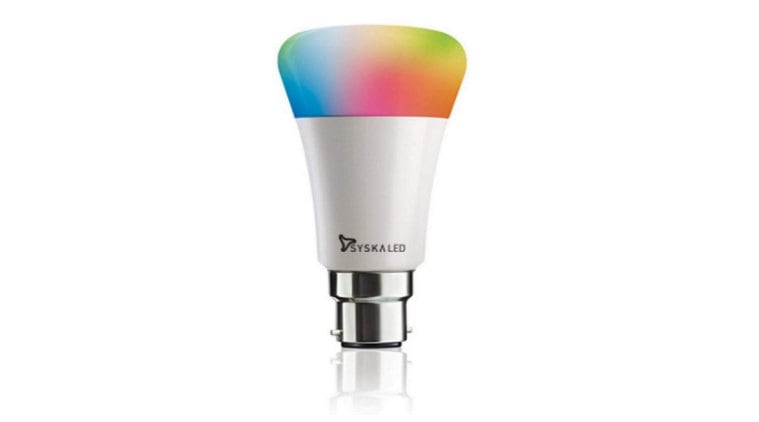 Syska smart Wi-Fi bulb is an inexpensive and easy way to get started with smart lighting. This Wi-Fi-enabled smart bulb also works with both Amazon Alexa and

Google Assistant – and because of that Wi-Fi — doesn't require a hub or bridge for control. It easily syncs with an app on the smartphone which lets you control the smart bulb from anywhere, change the colors as well as set brightness, set schedules and alarm, and much more.

Price: Rs 999


Multipurpose Foldable Laptop Table with Cup Holder | Drawer
Are you an avid lover of a comfy bed? or now you're recovering from a past surgery, or you are doing work from home what you need most is here! It perfectly fits a small size laptop, or tablet & phone, also read or do arts and crafts while sitting on the sofa or having breakfast in bed
Writing pad for students and kids with 8.5 Inch LCD Display Graphic Tablet
We've been taught from ages that learning through writing is the speediest way to retain information. Older generations across the country remember using chalk and black sheets to write and rewrite to memorize what they've learned in a better manner. But, today, in the age of technology, children are barely interested in going the slate-chalk way!
The Kids Mandi LCD Writing Pad is a great replacement for the old techniques, keeping the essence intact. The LCD offers a clear and bright writing platform for the child to learn through writing and rewriting. It is effortless and safe to use and can bear 100,000 times write-ups, counted with reference to the all-clear button. You get a smartpen along with the tablet, to write upon your ideas or information with. The pen gives out smooth strokes and ultra-clear handwriting; making the ink fun practice and writing a fun task for kids. The LCD writer can be used to write, draw, or even work as an office memo. It is the most convenient, new-age, non-polluting way to make learning an exciting job for your child. Buy From Amazon